Tomorrow begins May, and another April will have come and gone. I didn't realize how wonderful of a month we had, until Brett and I looked back over our Instagram feed….and wow! What a month. Capturing the beauty and the mundane of our everyday has us completely entranced. Yesterday, I caught Priya on my phone looking at all of the photos we've taken. When she said, "Wow Mom, so many awesome memories on here I forgot about!" Yep. Made this mama incredibly happy. I'm admittedly, a memory collecting junkie, and proud of it.
Our April, in a nutshell…..
-After an extremely odd early spring here in Cincinnati, I found that April regulated a bit and weather returned to normal temps in the 60s instead of 80s.
-Brett's brother Jason came to town for 2 weeks, and we had a ridiculous amount of fun. We visited new restaurants, and explored around our city much more than we normally do. We also took a day trip up to Yellow Springs, where we hiked, picnic-ed, and took tons photos. It's always hard to see Jason return to California, but after 2 weeks together, we were all ready to cry. Operation: "Make J Move Home," has been set in motion.  ;)
-As usual, we spent much time in the kitchen this month. Brett tried some new recipes, and we focused a lot on food as he prepares for our next big project for Life In Balance. Our family was even photographed in the kitchen for something really BIG and tasty that's coming up!!
-My baby brother turned 30. I reminisced on how awesome he made my childhood. This made me feel incredibly old.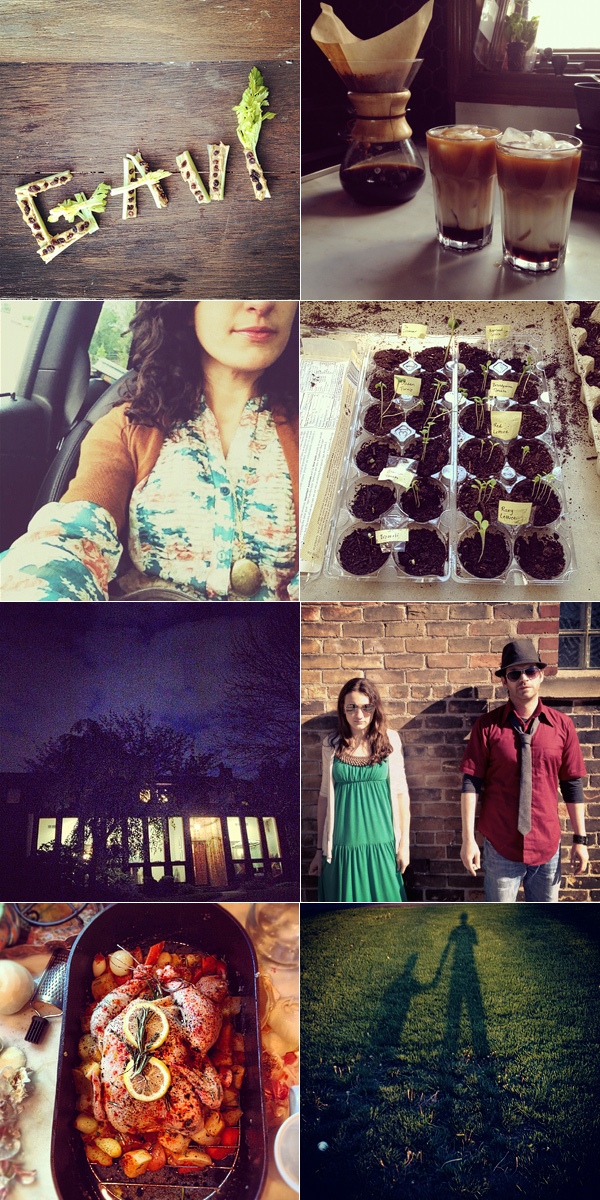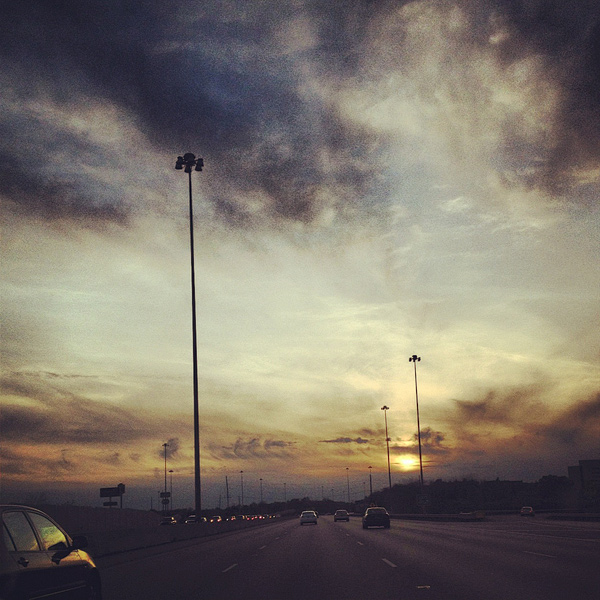 -We prepped our house, and shot a promo for Life in Balance in the new digs. Remember our 2011? New site, new brand, new first floor…well, the new promo film is around the corner as well!
-I finally took care of something on my "100 things I must do before I die" list, which is seeing my favorite band, Radiohead, live. Excited that I finally will check this off come June.
-Because of our crazy warm winter, flowers came out much earlier this year, and everything outside was sporadic. This meant that my Dad and I had to cancel our annual "Trout and Trillium" trip to search for wildflowers in Kentucky. Instead, my sister and I had a "Father Daughter Day," and spent time with our dad fishing, shooting guns, and eating. Perfect day for two tomboy sisters who refuse to grow up.
-Brett celebrated another year of life by making one the most wonderful dishes for his own birthday dinner. (Hey, he wanted to!!) Then I took him out and talked him into two desserts. Yep, we all won.
-Warmer weather meant that we've been outside nearly everyday. My allergies have NEVER been worse than this year, but it hasn't stopped me from getting outside. A game changer for our life was buying a chiminea for our deck. Now, every cool spring evening is spent eating dinner and enjoying family time outside by the fire.
-The kids finished up their school co-op for the year and now we're dreaming up projects, activities, and day-trips to go with our year round homeschooling. Since we've been studying U.S. history, we're really excited about a trip to our state capitol next month.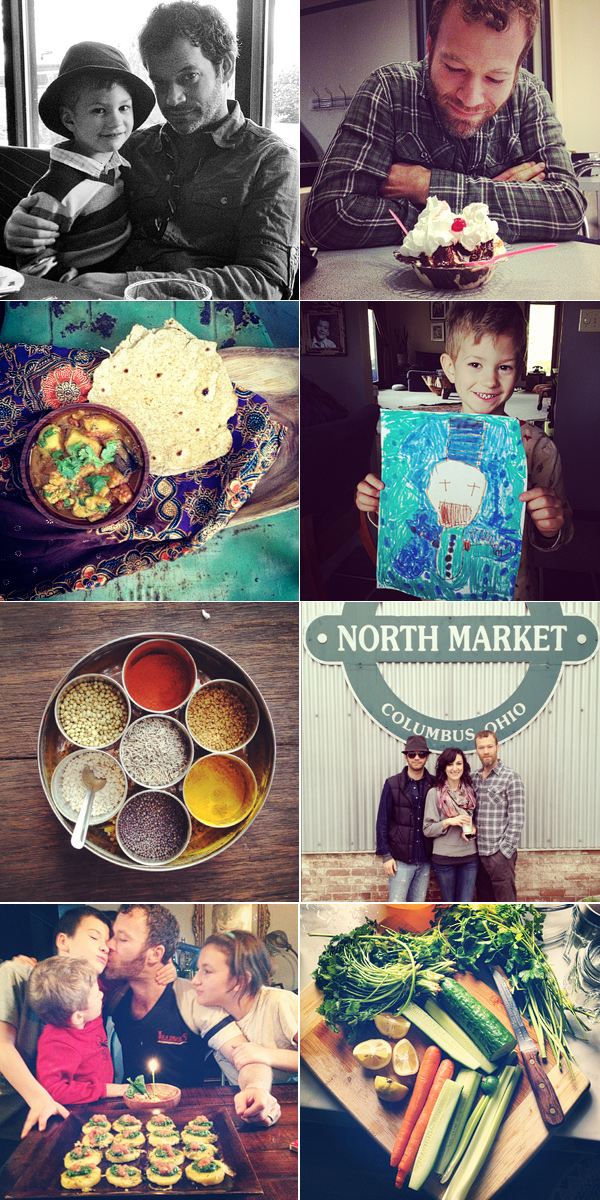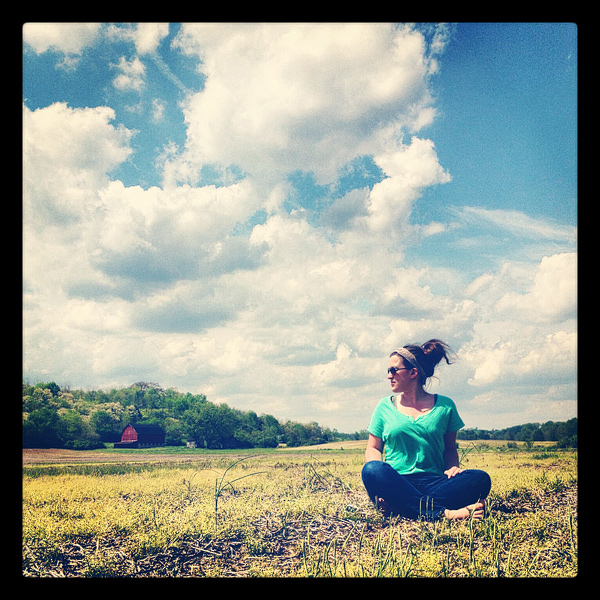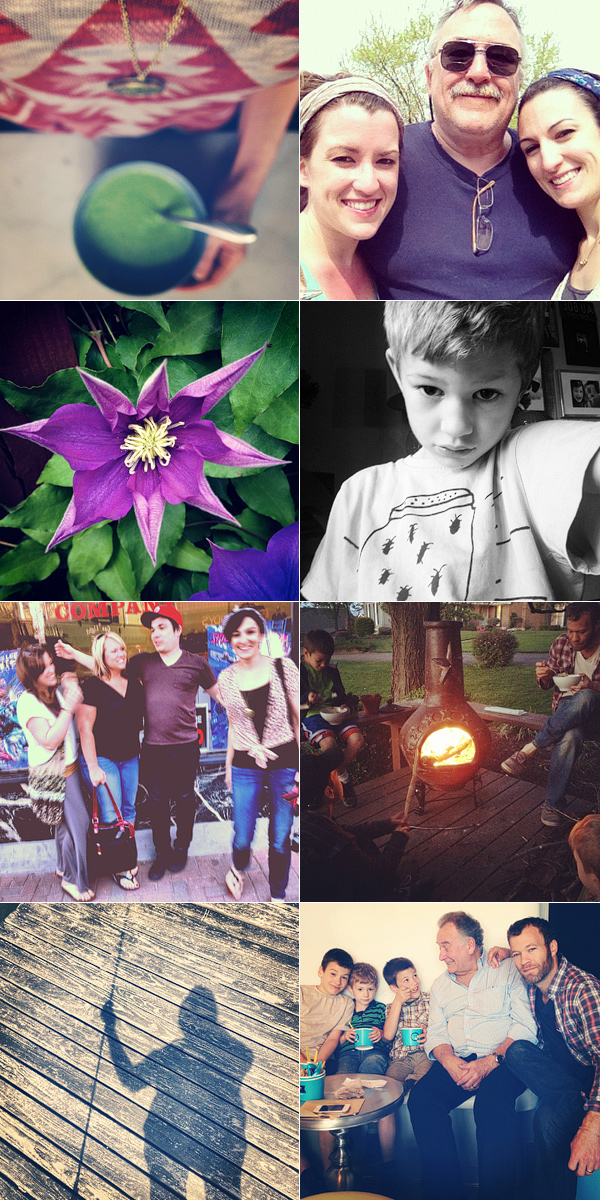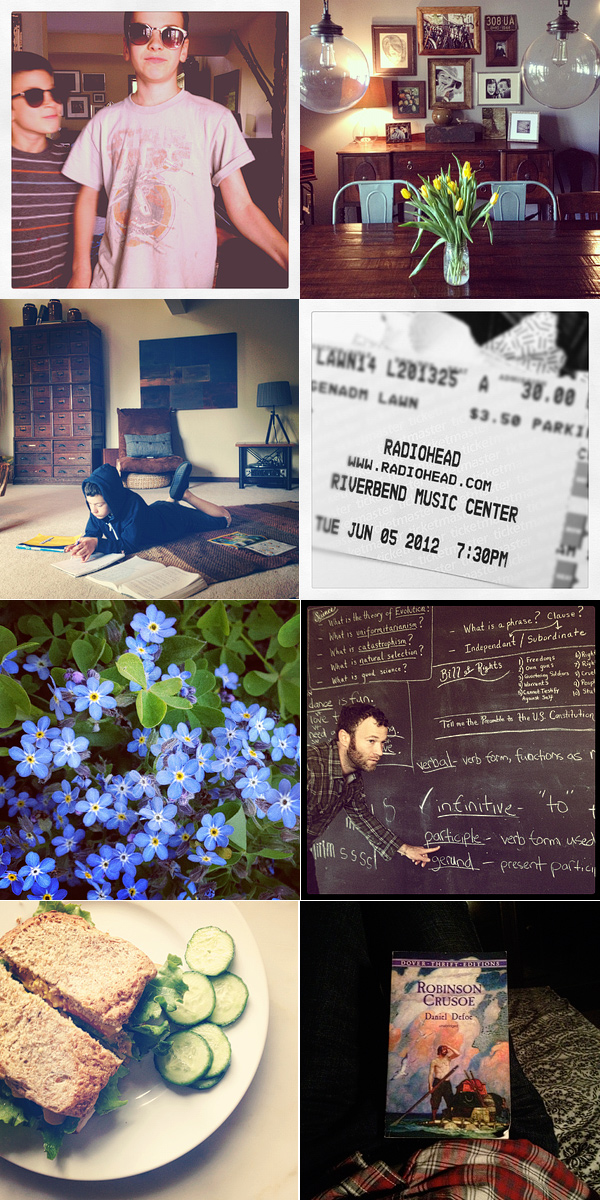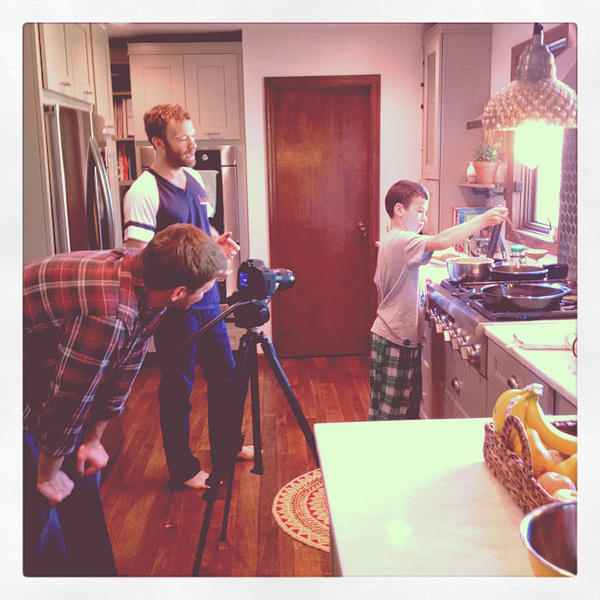 -Our perennials have been blooming like crazy all over the yard, and Brett has found a new interest in photographing every new flower he sees. I find this surprising, yet adorable.
-We're attempting a garden again this year for the first time since I was pregnant with Gabe…when gardening nearly killed us both! Instead of a traditional row garden, we're doing the box method this year. Brett and Adin have been building the boxes, making the perfect mix of soil and compost, and we've all been taking care of our sprouts and seedlings. We have no idea what we're doing. Wish us luck. ;)
-Photography season is back in full force. We've already met with many awesome people this month and we're excited for the year we have ahead!
-Gabe's been working hard on his reading lessons with Brett. Every time he finishes a lesson, he comes in with the biggest grin on his face, so happy for how proud he has made his Baba. I don't know who I am more proud of….Gabe for his excellent attitude, or Brett for the patience he has learned and perfected, now that he is teaching our 4th child to read. Go Baba!  ;)
-Riah has continued to do his artwork, enjoys his art classes, and is now teaching his little brother tips and tricks to drawing.
-Priya had us concerned for months because of all the headaches she's been getting. After months of waiting for an eye appointment, we found out that her sight is better than 20/20 vision! The doctor concluded that she simply reads too much. We had a good laugh over this.
Adin and Brett had been reading separate copies  of Robinson Crusoe, at the same time. They finished last week, and both greatly enjoyed reading and discussing this classic together. Now Priya and I have added it to our list for this summer.
-Brett and I made a new "rule" about trying to take a date night each week. I think we've done 3 now, and we notice that even when we don't feel like leaving and would rather sit at home, we're so happy when we break out for just for an hour or two, together.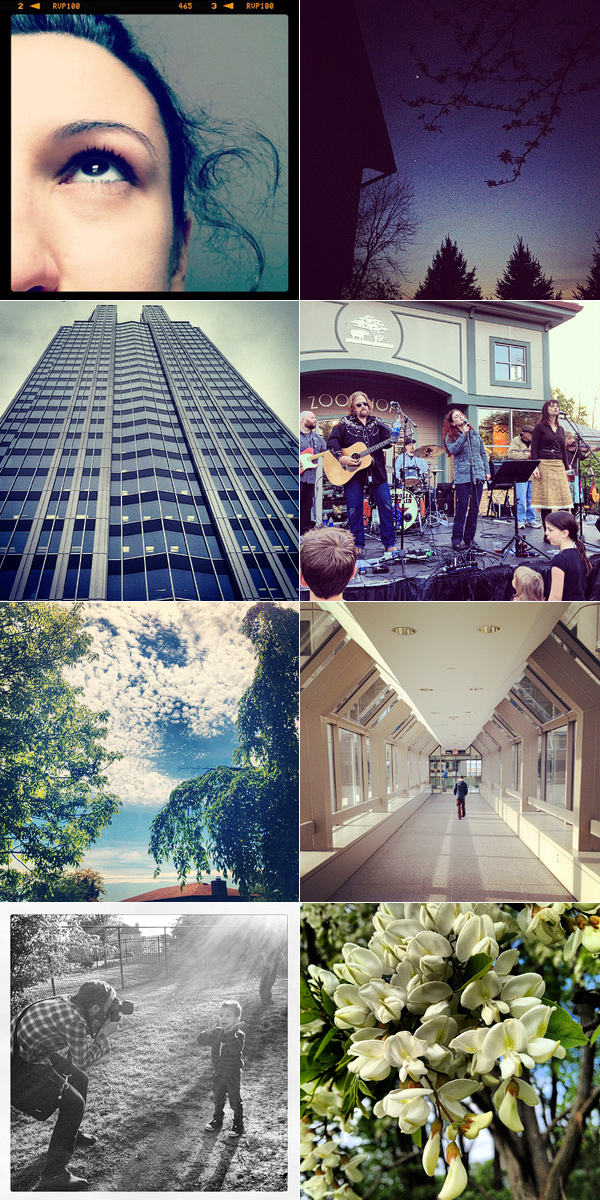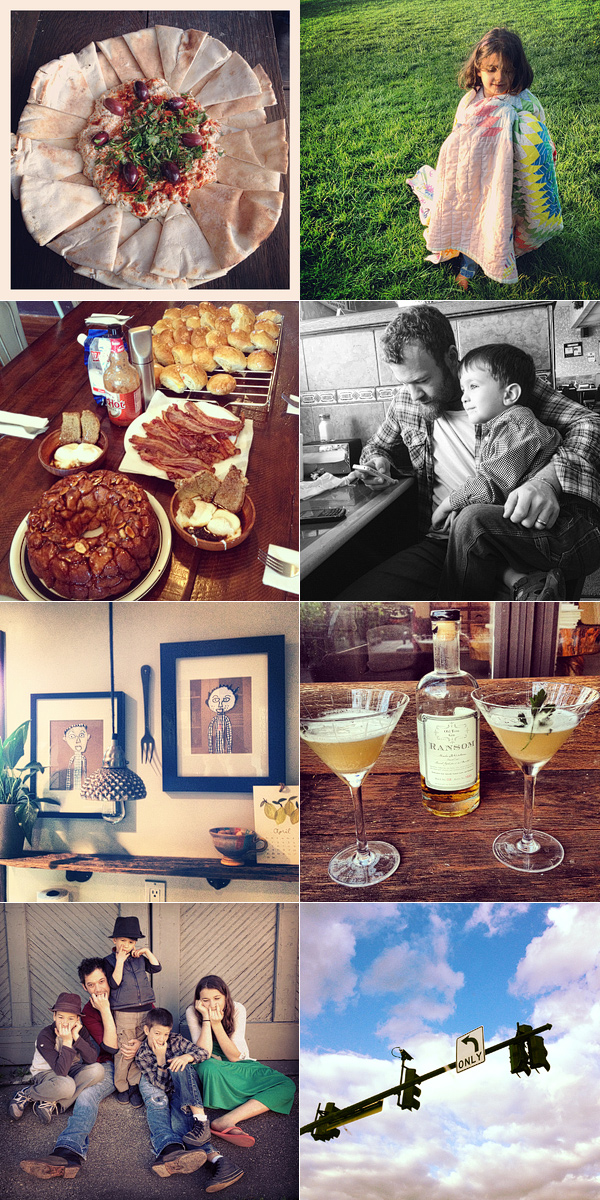 Hope your April was just as GRAND.
Wishing for more warm days, sunshine, music, loved ones, and gardens filled with veggies in the months ahead….
Over the last year we've been renovating our first floor living space, with the kitchen and dining room being the main focus. When not sleeping, we spend LOADS of time in those rooms as a family. We cook A LOT. We also home school amidst those rooms.
About a year ago I wrote about the dining room and my ideas for the new space. It was red. It didn't feel comfortable. It felt like a dining room, not a place to spend time…just living, and a place for living was exactly what I wanted.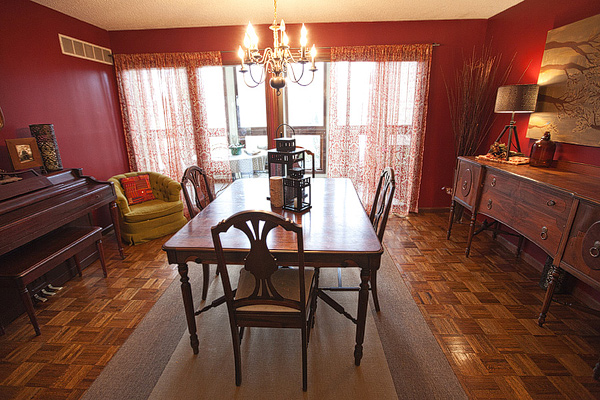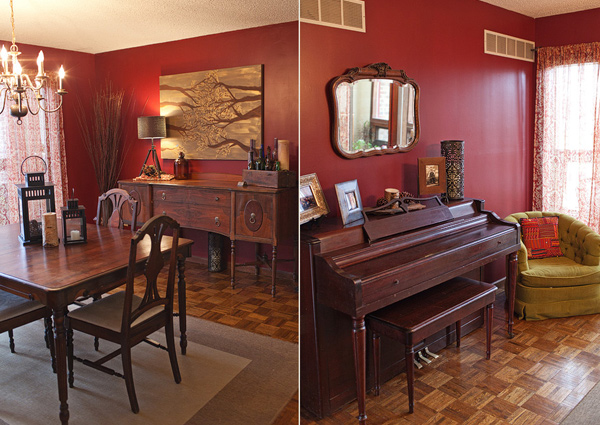 I made an inspiration board with my thoughts…the vibe…the colors shifting from reds and warms, to cools and earthy. I wanted it to be inviting and cozy, with a wonderfully lived-in feeling. Here's the funny part…I made the inspiration board and created a blog post last March. Work began in July with walls being replaced, floors ripped up, and fresh paint everywhere. I started putting the room back together in the fall, and I hadn't looked at my blog post or inspiration board since….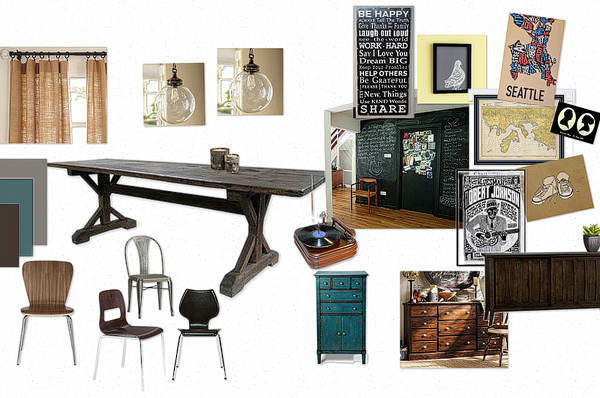 After it was done, I went and looked at that post and my board….I was shocked at how similar it turned out to the vision I wrote about 6-7 months prior.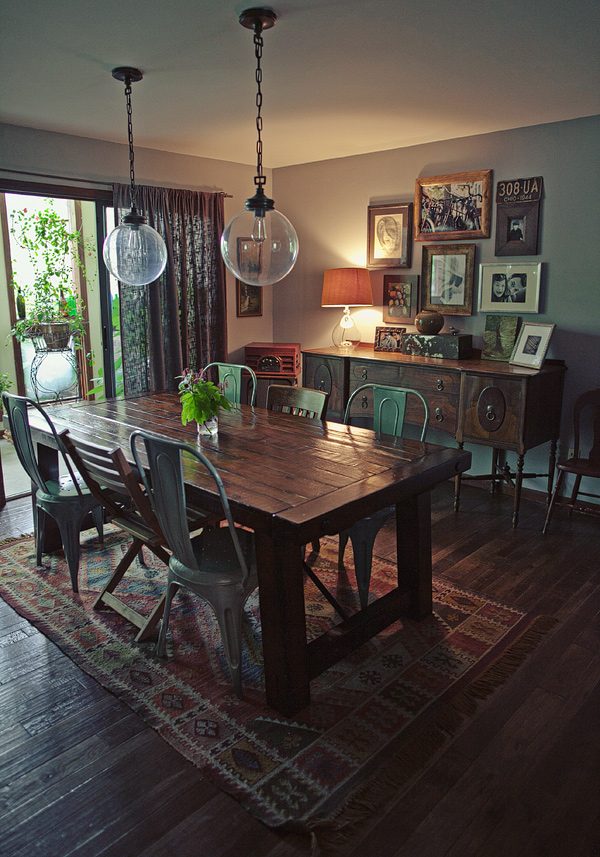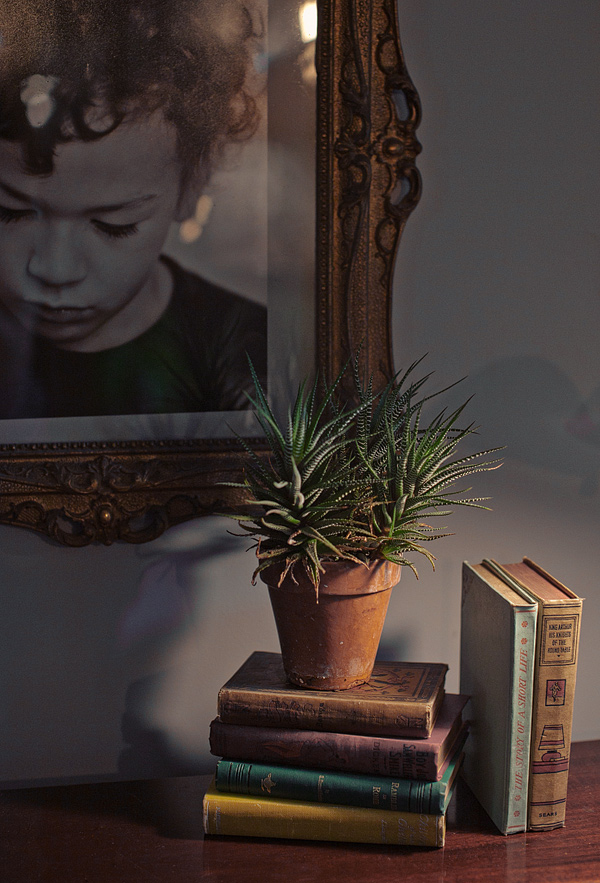 One of the only major differences from my initials thoughts for the room were the cool art posters. I decided instead to keep it all personal, with photos and artwork only made by family and dear friends. And I just LOVE the personal feel.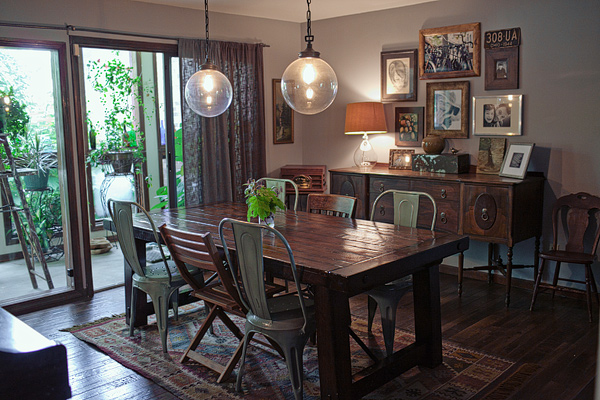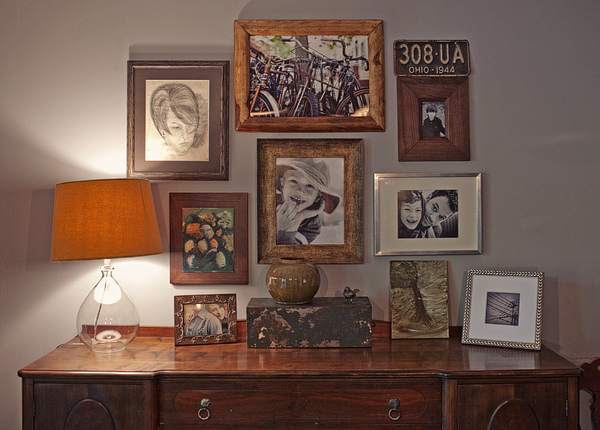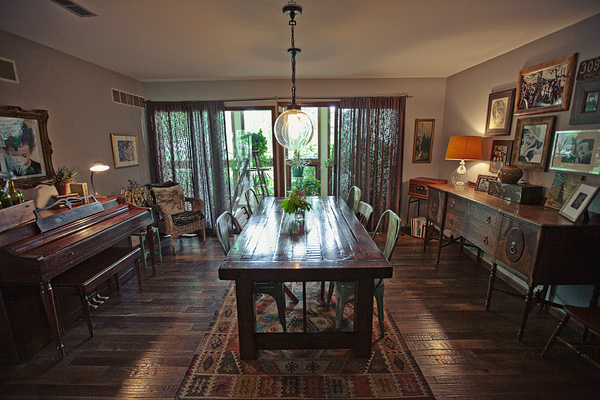 And this table…OH this TABLE…we searched high and low, and I thought I would go crazy looking for the right one for our large family, who often entertains. I wanted a really worn in, salvaged wood, rustic farm table. I just couldn't find it in our price range. I was reluctant when I first found this guy, 50% off at the Pottery Barn outlet-I just KNEW I wanted OLD with character…but the price with 2 leaves that add-on making it seat 12-14 people?! I was sold. And we've loved it since.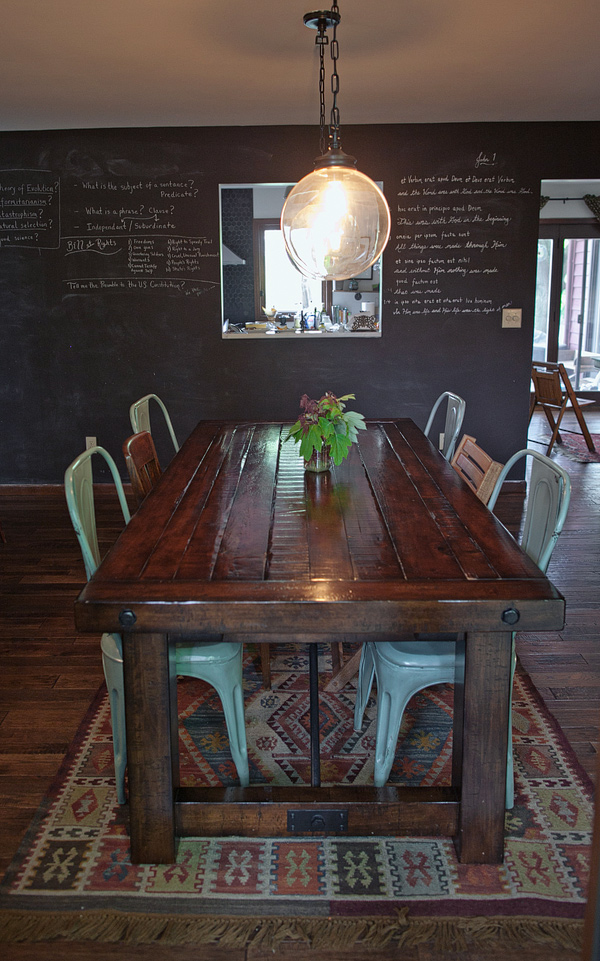 We do schooling at this table and have a 40-ft chalkboard wall that runs down the hall right through the room. Would you believe the chalkboard wall was a last minute spontaneous decision? Schooling in there with that wall has been SUCH an awesome blessing. I can't imagine doing it any other way now!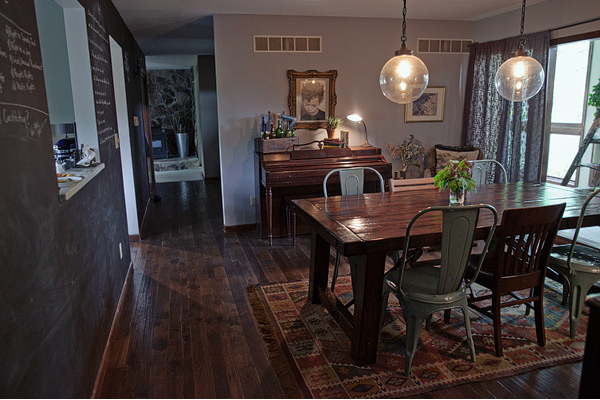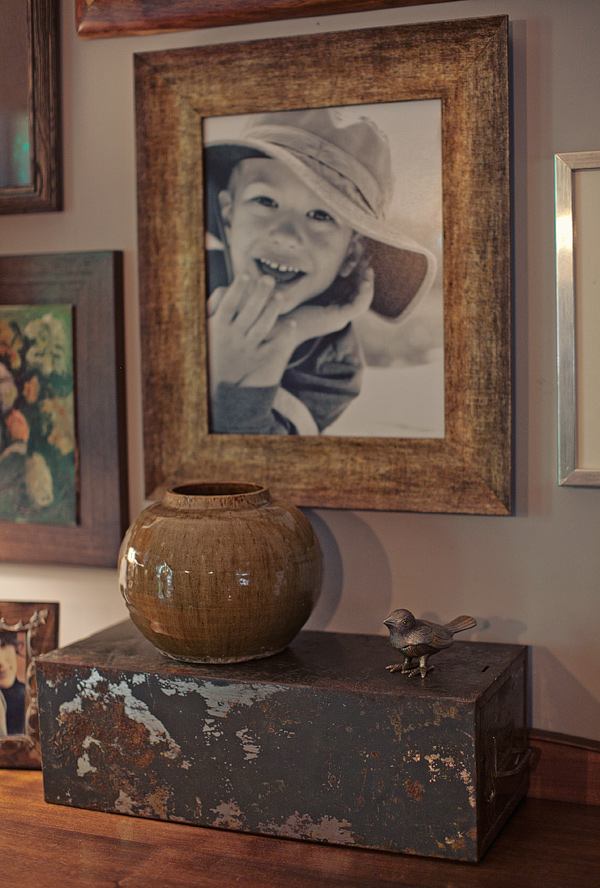 Thanks for looking. Soon I'll get around to showing the whole kitchen. Oh man, was that an adventure.